World Sprint Relay Championships: Success for Sweden in title defense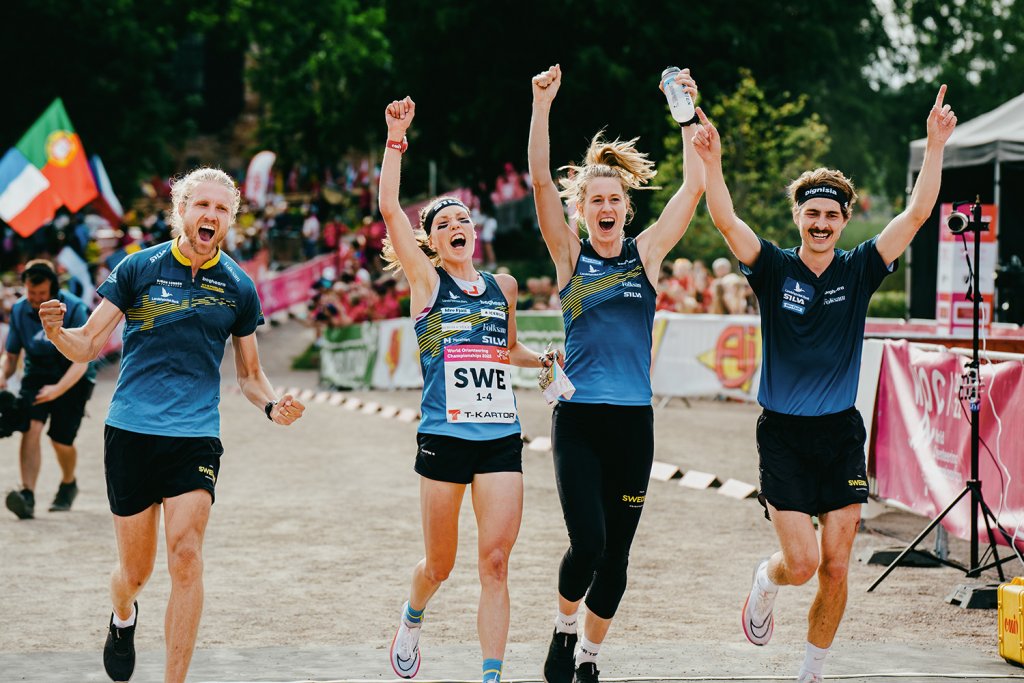 Sweden took victory on the final stage, winning by 1.02 seconds after leading for most of the race. The closest challengers were Great Britain, leading by a second on the final change, and the bronze medals went to Norway thanks to a strong run from Andrine Benjaminsen's final stage.
Sweden have now won all four Sprint WOC relays from 2017.
Sweden showed authority from the start, Lina Strand in her 9e The WOC runs strong and establishes a 17-second lead over Switzerland's Simona Aebersold on the changeover. Max Peter Bejmer made no significant errors in the second leg, but in the second half of this stage several teams made a 30-45 second error at an unexpected site – with very clear features where the elite runners shouldn't be wrong. Following this, GBR took second place, which Kris Jones comfortably held on stage three, even narrowly edging out Gustav Bergman SWE heading into the final change.
Tove Alexandersson showed her usual strength and speed, and although Megan Carter Davies for GBR kept her in sight for much of the course, Alexandersson took the lead on the final fork.
Norway finished 1.41 behind Sweden, Switzerland 6 seconds behind, just ahead of Denmark after a sprint finish. The last place on the podium goes to France.
The race took place in the complex old town center of Kolding, Denmark, with the arena in a courtyard next to the impressive castle on a hill. The choice of route involved the railway and river as well as narrow streets, alleys and backyards. It was a hot but dry afternoon with a good breeze – ideal for the huge crowd that filled the arena.
Next comes the Knock-Out Sprint on Tuesday, with qualifying in the morning. Qualifying as well as the final stages will be blogged on the IOF Live Twitter feed, so tune in to find out how your country's competitors are doing.
Sprint Relay Results
Sweden (Lina Strand, Max Peter Bejmer, Gustav Bergman, Tove Alexandersson)
Great Britain (Charlotte Ward, Ralph Street, Kris Jones, Megan Carter Davies) +1.02
Norway (Ane Dyrkorn, Lukas Liland, Kasper Harlem Fosser, Andrine Benjaminsen) + 1.41
Switzerland + 1.47
Denmark + 1.49
France + 1.52
All photos: IOF / William Hollowell