Tech maintains lead at Watersound Invitational – Men's Golf – Georgia Tech Yellow Jackets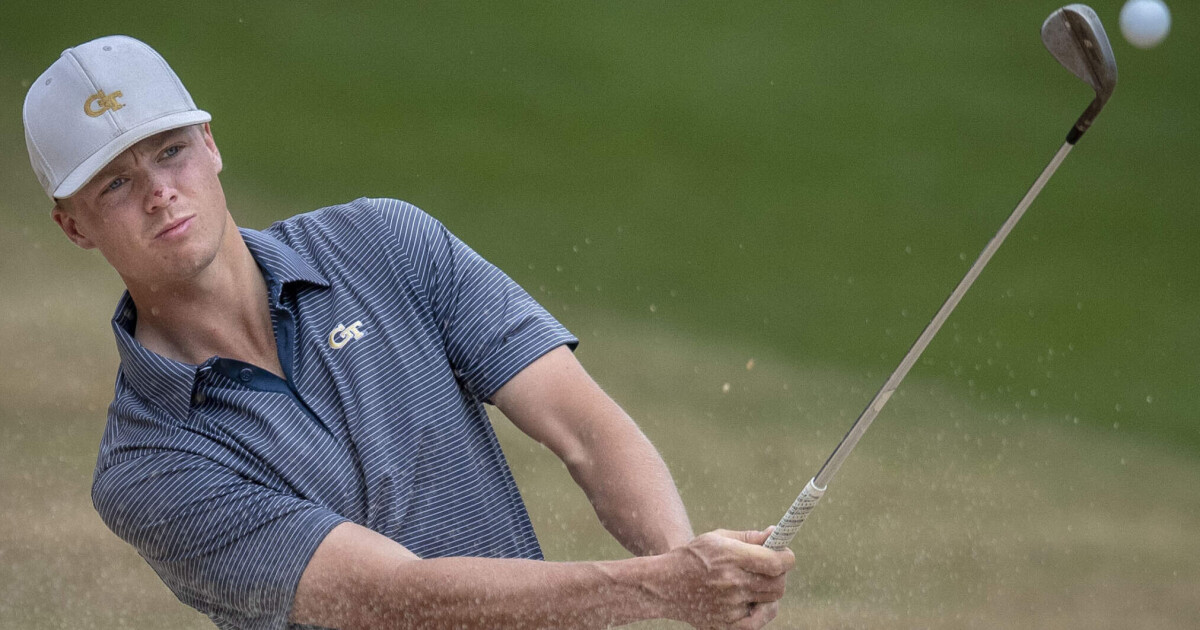 Panama City Beach, Florida – Georgia Tech shot an 11-under 277 on Monday, led by a 68 from Bartley Forrester and a pair of 69's Ross Steelman and benjamin ruterand took a six-stroke lead over Virginia Tech after 36 holes at the Watersound Invitational.
The 17thand-The ranked Yellow Jackets are looking for their third tournament win of the 2021-22 college year and first of the spring. Competing with four other teams ranked in the top 25 of Golfstat's current rankings, nine in the top 50, Tech will be paired with the Hokies and No. 4 North Carolina for Tuesday's final round at 10:40 a.m. tournament is played at Shark's Tooth Golf Club, the golf course that will host the ACC Championship in April.
TECHNICAL RANGE –With less wind covering the course at Shark's Tooth on Monday, the Yellow Jackets posted four rounds below average. Senior Connor Howe (Ogden, Utah) provided the fourth count score with a 1-par 71.
Forrester, a junior from Gainesville, Georgia, birdied on four of his first six holes and added three more on the way to his 4-under 68, which lifted him into a tie for second place. individually at 5 under par 139. after 36 holes.
Reuter, a freshman from Naarden, Netherlands, played a bogey-free round with two birdies on his front side and one on his back for his 69, while Steelman, a junior from Columbia, Mo., had played his back nine 3-under to complete his 69. Steelman is tied for 10th individually at 142 (-2), Reuter tied for 18and at 143 (-1).
Howe birdied on five holes to block four bogeys for his 71, and is tied for sixth after 36 holes at 3-under par 141.
Second year Christo Lamprecht (George, South Africa) didn't count for the Jackets on Monday, bogeying his last two holes for par 72. He's tied for 23rd place at peer peer 144.
Tech birdied 23 in Monday's round and leads the field with 43 over 36 holes, and has a two-shot homecourt advantage in scoring on par-4 (-2) holes.
Bartley Forrester led the way for Tech Monday with a 4-under 68, moving into a tie for second place individually. (photo by Ross Obley)
TEAM RANKING – The Yellow Jackets, with a 36-hole total of 562 (-14), led by no less than seven shots in Monday's inning, but Virginia Tech (568, -8) stayed within striking distance after posted a 6-under par 282 for the day.
Alabama posted a 12-under par run of 276 on Monday and climbed seven spots to third place at 572 (-4), followed by No. 4 North Carolina at 573 (-3). Clemson and Notre Dame are tied for fifth at 574 (-2). The Fighting Irish posted the fastest lap of the day at 273 (-15).
NC State, in seventh place at 575 (-1), is the only other team in the 14-under-par 36-hole field.
INDIVIDUAL CLASSIFICATION – Canon Claycom, the first-round leader after a 67, followed with a 66 on Monday to keep his lead at 11 under par 133. He is two strokes ahead of Forrester of Tech, Connor Burgess of Virginia Tech and Frederik Kjettrup of Florida State , who are tied for second at 5 under par 139.
Austin Greaser of North Carolina is alone in fifth place at 140 (-4), while Howe of the Yellow Jackets is tied for sixth at 141 (-3) with Jacob Bridgman of Clemson, Palmer Jackson of Notre Dame and David Ford of North Carolina.
TOURNAMENT INFORMATION – Georgia Tech is participating in the Watersound Invitational for the second consecutive year. The tournament follows the traditional 54-hole, 5-stroke, 4-stroke collegiate format, with 18 holes each Sunday, Monday and Tuesday. This year's event will be played at Shark's Tooth Golf Club, a 7,202-yard (par 72) venue that will also serve as the venue for the ACC Championship in April.
That tournament was held in mid-January a year ago, the Jackets' first tournament in a busy spring schedule that followed a COVID-induced inactive drop. Tech finished seventh in a limited 10-team field that included all ACC teams.
The field includes (with Golfstat rankings) No. 33 Alabama, No. 6 Arkansas, Boston College, No. 26 Clemson, No. 53 Duke, No. 35 Florida State, No. 17 Georgia Tech, No. 32 Louisville, No. No. 32. 4 North Carolina, No. 34 NC State, No. 15 Notre Dame, No. 37 Virginia, No. 62 Virginia Tech and No. 12 Wake Forest.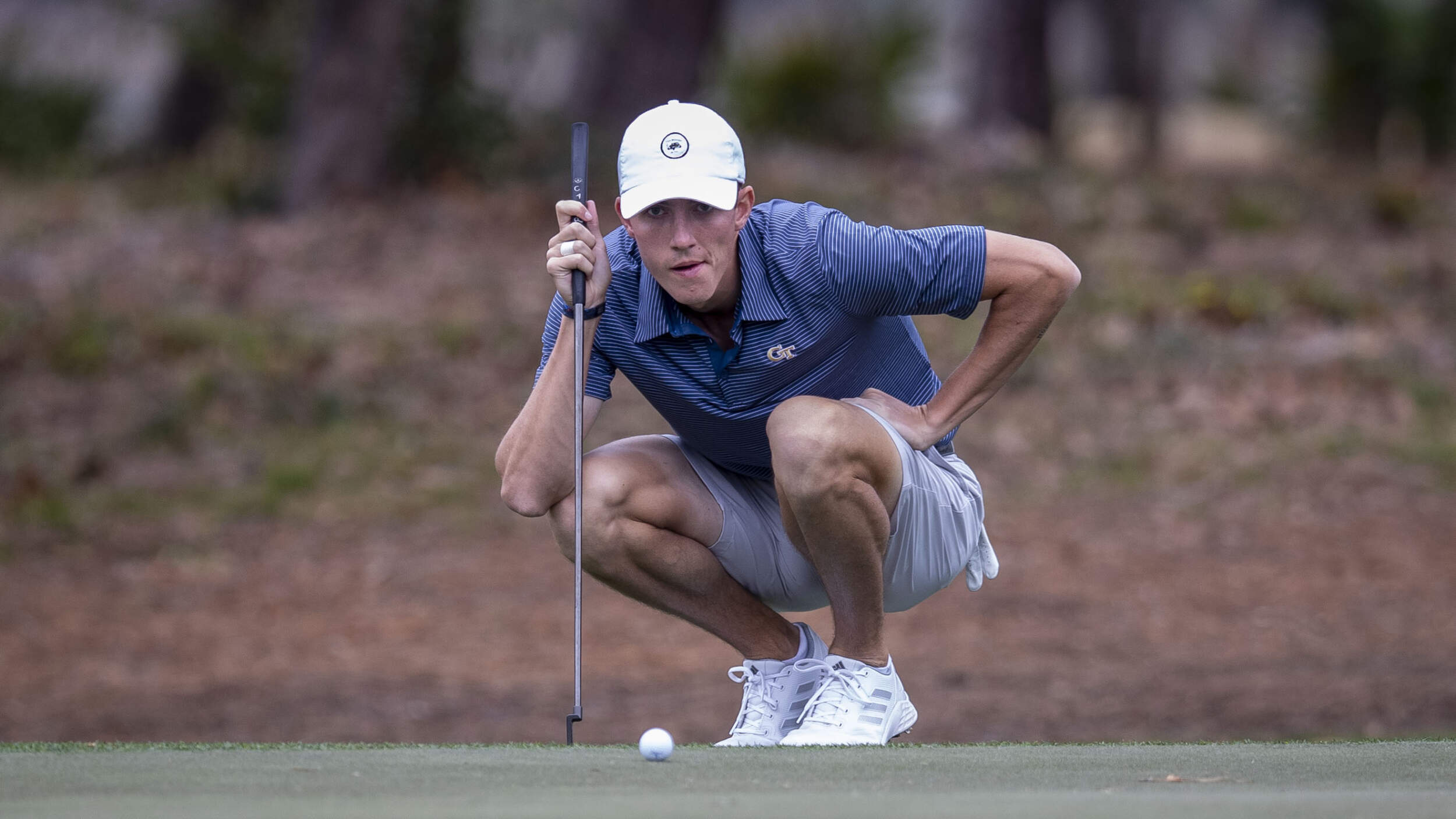 Ross Steelman moved into a tie for 10th after his 69 on Monday. (photo by Ross Obley)
Alexandre-Tharpe Fund
The Alexander-Tharpe Fund is the fundraising arm of Georgia Tech Athletics, providing scholarships, operations, and facilities support for over 400 Georgia Tech student-athletes. Help develop Georgia Tech's Daily Champions and help the Yellow Jackets compete for championships at the highest level of college athletics by supporting the Annual Athletic Scholarship Fund, which provides scholarships directly to Georgia Tech student-athletes. To learn more about supporting the Yellow Vests, visit atfund.org.
ABOUT GEORGIA TECH GOLF
Georgia Tech's golf team is on its 27thand year under head coach Bruce Heppler, winning 67 tournaments during his tenure. The Yellow Jackets have won 18 Atlantic Coast Conference championships, made 29 NCAA championship appearances, and been national runners-up four times. Connect with Georgia Tech Golf on social media by liking their Facebook page or following on Twitter (@GTGolf) and Instagram. For more information on Golf Tech, visit Ramblinwreck.com.