Recent Match Report – Aust U19 vs Pakistan U19 Super League Quarter Final 3 2021/22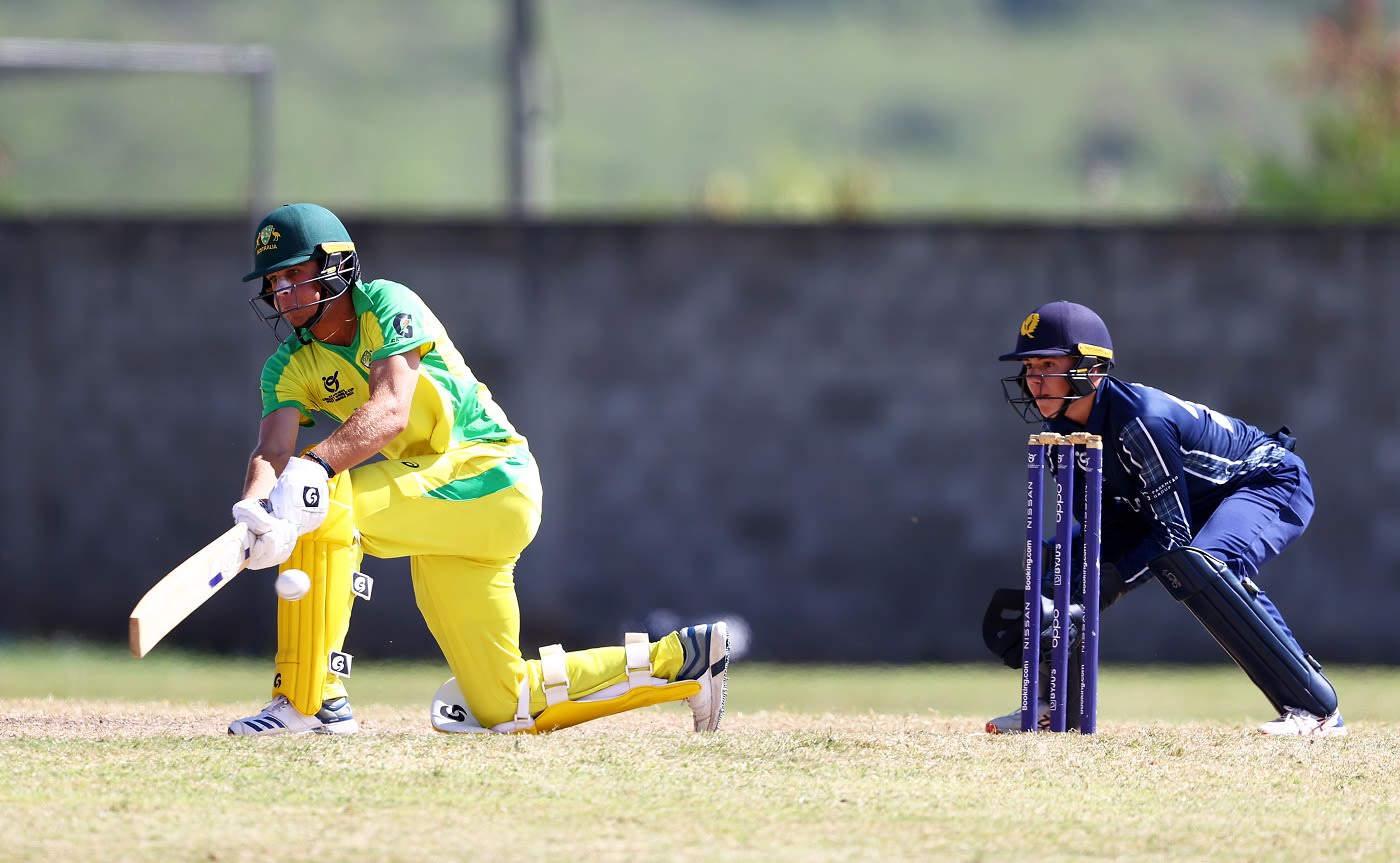 Reporting
The United Arab Emirates stunned hosts West Indies in the qualifying play-off; Uganda claim first victory
Australia 276 for 7 (Wyllie 71, Miller 64, Kellaway 47, Qasim 3-40) defeated Pakistan 157 all out (Mumtaz 29, Salzmann 3-37, Whitney 2-31) by 119 points
Striker Teague Wyllie continued his dominance at the U-19 World Cup before the Couturiers took over as Australia comfortably eliminated Pakistan in the quarter-finals. Australia now faces either India or Bangladesh in the semi-finals.
After scores of 86* and 101* in the group stage, Wyllie dropped anchor again to score 71, his ease in handling the pace and spin frustrating Pakistan. Wyllie put up a quick 86-point opening position with Campbell Kellaway (47) to set the tone for the innings, but a 101 partnership as a follow-up with Corey Miller didn't allow Pakistan to lean.
They started out steadily and gradually increased their scoring rate as the partnership grew. Wyllie moved first to fifty and Miller followed suit, and after 37 overs Pakistan had just one wicket to show.
Middle pace Awais Ali finally broke through when he knocked down Wyllie in the 38th, but the platform was set for the middle order to bring out all the guns on fire.
Captain Cooper Connolly hit four fours in a 25-ball 33 even as Miller eventually fell for 64. Then Australia slumped losing five wickets in eight overs before No.9 William Salzmann hits a 14-ball 25 to give the innings a lift towards the end with Australia finishing with 276.
Qasim Akram, the versatile batsman who also plays offspin, was the bowlers' choice with his 3 for 40 – including two top-notch wickets – but poor returns from pace bowlers hurt Pakistan. Zeeshan Zameer went for 76 in nine overs, Awais' save was nearly six and Ahmed Khan couldn't take a wicket.
Pakistan lost their openers inside the fifth, even as Abdul Faseeh (28) and Irfan Khan (27) tried to rebuild, but Connolly went to their tournament-essential partnership breaker Salzmann and he still has once delivered, knocking out Irfan with a yorker that shook his center stump. Pakistan quickly fell to 83 for 4 when Faseeh called.
It was the beginning of the end, as it turned out. Qasim was run out for 9, Abbas Ali and Maaz Sadaqat were sent off by offspinner Jack Infield, and Pakistan quickly folded for 157 to crash out of title contention.
United Arab Emirates 224 for 9 (Aayan 93, Bawa 51, Sankar 3-31) defeated West Indies 142 all out (Edward 51*, Parashar 4-30, Giyanani 3-21) by 82 points
Elsewhere, the United Arab Emirates caused a huge upset by beating hosts West Indies in the playoffs for the 9-13 positions. Dhruv Parashar (4 for 30) and Jash Giyanani (3 for 21) combined to suck West Indies for 142, defending 225. The margin of victory could have been even bigger if not for Nathan Edward's unbeaten 51.
The West Indies slipped to 32 for 4 and from there there was no turning back. Edward saved West Indies face with his 65 51s, before Parashar cleared the tail with three more lower order wickets and ended West Indies' misery in the 40th.
Earlier in the day, the United Arab Emirates were also in a tricky position in their own batting innings, needing a lower-order recovery to take their score to 224. They were 76-6 following the breakout. Shiva Sankar's opening, but No. 6 Aayan Afzal Khan dug in to score a 93 from 121 balls. He was backed up by No.8 Shival Bawa's 51s, and their 103-run seventh wicket rejuvenated the United Arab Emirates' innings. A few other lower order contributions made the West Indies a difficult target.
Uganda 123 all out (Kakuru 65, Kariko 5-19) beaten Papua New Guinea 88 all out (Morea 26, Miyaji 4-29, Baguma 3-30) by 35 points
In the 13th place play-off semi-final, Uganda claimed their first victory in the competition by successfully defending 123 against Papua New Guinea in Diego Martin. Their three front row bowlers shared all ten PNG wickets to win them for 88 in 19.3 overs.
Juma Miyaji and Joseph Baguma, the off pinner, crossed the top order of PNG while Matthew Musinguzi took two bottom order wickets. Miyaji finished with 4 for 29 and Baguma returned 3 for 30 numbers while PNG's Junior Morea (26) was their only hitter to cross 20.
PNG's John Kariko took 5 for 19 in his nine overs earlier in the day. While no other batter went over 26 that day, Ugandan Cyrus Kakuru hammered 11 fours in his 59 65 balls to take Uganda to 123 which was the difference in the end.