Preparatory tennis, state tournament: GW boys have a chance to make history Preparatory sports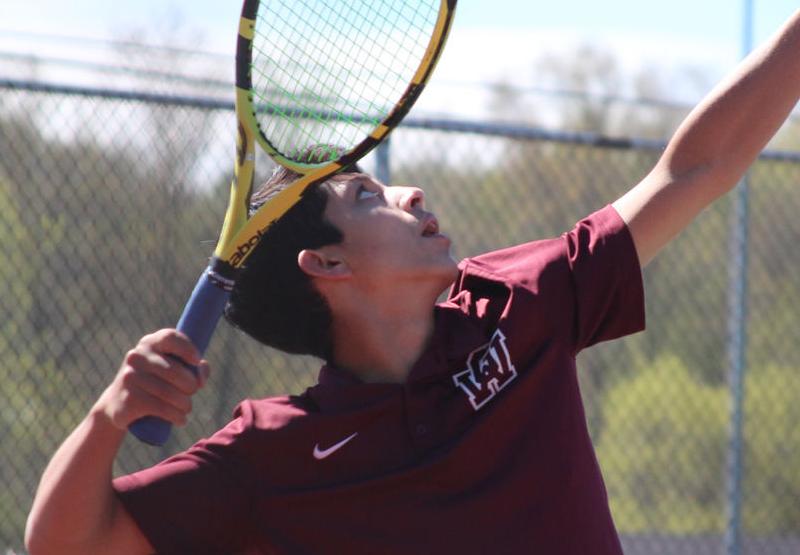 George Washington has positioned himself not only to play another championship at this week's state tennis tournament, but perhaps to flirt with a bit of history as well.
The Patriots have qualified their full teams for the boys and girls tournaments, which are scheduled to start at 8 a.m. on Thursday at two venues in Charleston – the AAA class games at the Schoenbaum tennis courts in Kanawha City and the AA-A class games. at the Charleston Catholic Sports Complex off Hillcrest Drive.
Competition continues throughout Saturday's singles and doubles title matches, with champions crowned in four singles divisions and three doubles divisions for both boys and girls.
Since last year's state tournament was canceled by COVID-19, George Washington has been the event's two-time defending champion in the boys' division. Morgantown won the 2019 women's tag team title the last time the tournament was played.
"We feel good about our chances because all seven of us have qualified [entries], compared to other teams, " said Taylor Dixon Rose, GW third-year boys coach. "However, there are still other teams that we have to compete against. We would like to win, but we know it will be hard work."
Another carrot attracting the Patriots in their title hunt is the fact that Parkersburg holds the all-time lead in the men's championship with 21 since the tournament started in 1956. GW currently has 20 titles; so the Patriots could match the Big Reds as the state's dominant program with one more crown.
Dixon Rose was not aware of the added importance of this year's tournament to GW until a few days ago. However, she is fully aware of the high annual expectations for the Patriots tennis program.
"I think there are expectations," she said, "especially since in a way we're going back to back [to back] securities. So there are their expectations in this sense, and the expectations of the school as well. "
Dixon Rose has named Huntington, Hurricane, Cabell Midland and Parkersburg as four teams that will challenge GW in the boys' division this weekend.
The Patriots' men's team is led by runner-up Rohen Jones at No.1 singles, with senior Alex Stacy at No.2 singles, freshman Samir Jones (Rohen's brother) at No.3 singles and senior Chris Muto. singles # 4. Doubles teams are made up of Rohen Jones and Stacy at # 1, Samir Jones and Muto at # 2 and Shreyes Jogenpally senior and sophomore Anurag Reddy at # 3.
George Washington's daughters last won a state championship in 2018 and won 14 titles in total, three short of the state's leader Parkersburg of 17. The women's tournament started in 1969.
GW sophomore girls coach Dinah Hurley also cited Cabell Midland, Hurricane, Huntington and Parkersburg as formidable AAA opponents in the Patriots' quest for the title this week.
"These are all strong, competitive teams that come into the States," said Hurley.
Unlike the GW boys' team, the girls in the Patriots rely on a good chunk of youth throughout their roster, with no seniors and a single junior on the roster.
"We have a young team," said Hurley, "with most of the freshmen and sophomores. We don't have any seniors so it will be difficult.
"Our expectation for the state title is that it will be tough for them, but they work hard and work hard in the off-season, which helps. Getting to a state championship will be tough, but it's doable for our. girls. "
Sophomore Jeeya Patel struggles at No. 1 in singles and No. 1 in doubles for GW, with rookie Emilia Stacy at No. 2 in singles and No. 1 in doubles, second year Lily Stone at No. 3 in singles and No. ° 2 doubles, junior Jana Zatar at No. 4 singles and No. 3 doubles, rookie Francesca Charles at No. 2 doubles and rookie Emma Ratrie at No. 3 doubles.
Another Kanawha Valley team that qualified for the seven spots in singles and doubles is Charleston Catholic in the girls' division. The Irish, reigning AA-A champions, have not fielded a team this season.
Admission for the state tournament is $ 10 for adults and $ 7 for students per day, but passports and stamps will be issued daily. All-session passes for the three-day event are priced at $ 25 for adults and $ 18 for students.
Indoor venues in case of rain are the Charleston Tennis Club near GW High School in South Hills (for Class AAA games) and the Charleston Family YMCA on Hillcrest Drive (for Class AA-A games).