Outdoors: Spring Valley Ski Trails Test Boating Skills And A Wedding | Local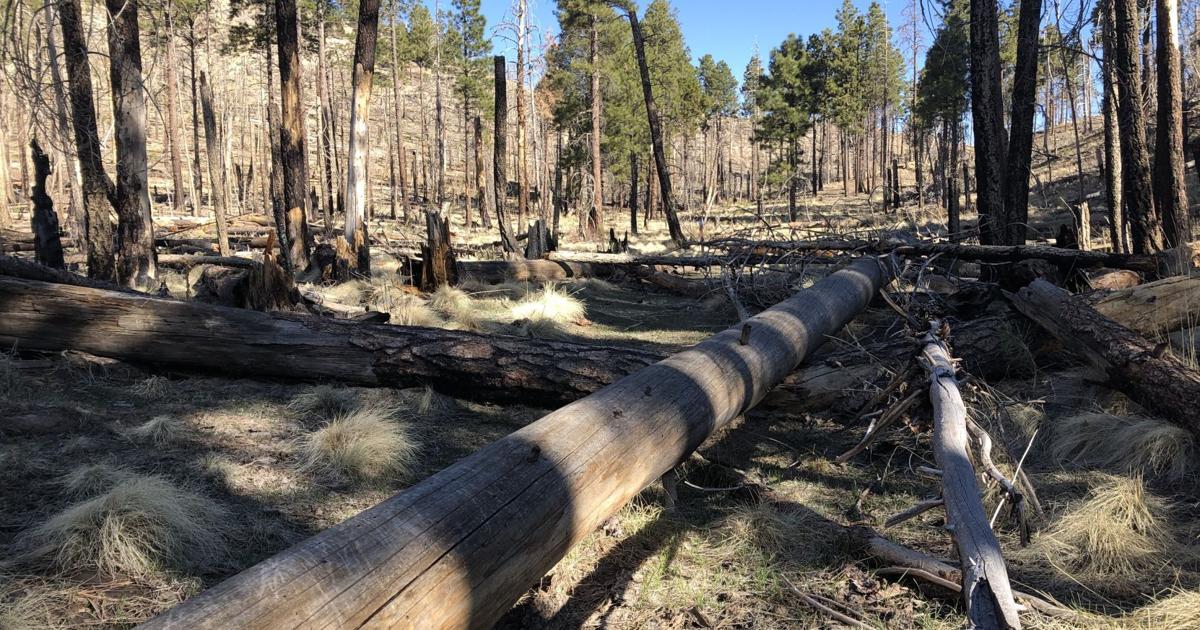 Orienteering isn't really my thing. In fact, I didn't even know it was one thing until I research it and find this definition:
"Orienteering is a group of sports that require navigation skills using a map and compass to navigate from point to point over diverse and generally unknown terrain while moving. high speed."
Oh, so that's what I was doing "while" in Kaibab National Forest with my LSS (long-suffering spouse) the other day. Idiot me, thought I was doing a trail run, crossing the Spring Valley Cross Country Ski Trail, an about 8 mile loop around RS Hill in the pine dotted woods north of Parks.
Little did I know it would turn into a grueling, confusing but wickedly fun orienteering odyssey without a compass, clue, and only the grossest of cards that tested my stamina, sense of direction and, even, my wedding.
And to think that I thought it would be an easy lark of a trail. That's how I sold it, in any case, to my LLS, who frankly prefers road racing but sometimes likes to please me.
I assumed – and you all know the maxim about that word and a certain part of the body – that because it was a cross-country ski course and was featured on the National Forest website as following old logging roads and well-marked singletracks it would be a snap, much like hiking the easy trails in Arizona Nordic Village off of Hwy 180.
The fact that I've never heard anyone talk about using the Spring Valley trails, whether it's cross-country skiing, hiking, or running, didn't bother me at all. I found two posts online about the trail – the most recent from six years ago – saying the two loops (Eagle Rock and RS Hill) totaled 8.8 or 8 miles. And then there was the Kaibab National Forest map, not very detailed but better than nothing.
When LLS and I were driving Interstate 40 to Parks, I mentioned the mileage gap and she rolled her eyes.
"That means it'll end up being 10 miles," she joked.
"But it's a cross country ski trail, so doesn't that mean it's going to be well maintained, you know, smooth?" I countered.
When we parked at the trailhead after driving 5.5 miles north on County Road 141, I felt vindicated. No cars were in the parking lot, but there was a nice information board with a map carved into the wood. Beyond the gate, just to the right of one of Parks' cavernous country houses, the path seemed flat and smooth with no lingering snow from early April. In addition, it was clearly marked with a series of green signs indicating "the easiest trail" with arrows.
"See, that looks good," I said.
As we took off, LLS and I saw the faces of two young girls pressed against the living room window of the spacious house. Those would be the last two people we would see for the next 90 minutes.
Just under a mile and a half, where the Spring Valley Reservoir was on our original map, we came across a large prairie with a stand of aspen mixed with ponderosa pines. This is where the green signs stopped. There was sort of a trail to the left, towards the aspens, so I pointed us in that direction. After a quarter mile without seeing a green sign and with the trail fading, LLS stopped. At his request, we turned around and turned back, then crossed the meadow on a nonexistent path that surprisingly ended up leading to a path and – hey, look, far right, a green sign!
LLS felt pretty smug at this point. We quickly reached a sign that identified Eagle Rock Loop ("Harder") and RS Hill Loop ("Easier"). We went straight thinking we would make the RS Hill loop easier on the way back. Now we've come across blue signs nailed to tree trunks every 100 feet or so.
"It will be easy from here," I predicted, a statement causing stony silence from LLS.
Soon we started to climb, nothing shocking the lungs, but significant. And the trail disappeared into a quagmire of downed trees, scorched hulls of once majestic pines, and an assortment of humus and scree that made it difficult.
At the top of the hill, still on the Eagle Rock Loop, we suddenly looked down at a post-apocalyptic scene from the ravages of fire. I would later find out that this was the main section of the Sitgreaves complex fire caused by lightning, which burned 11,080 acres in 2014. But for now, all I was interested in was finding signs of a trail. As we made out the descent, hopping trunks and crunching on branches with no discernible path, I stepped on what I thought was a stable log. It rolled right under me, and I fell hard, much to LLS's amusement.
But that tilted perspective allowed me to see a downed tree that – incredibly – had a barely visible blue sign from the bottom.
"At least we're going in the right direction," I said.
This scavenger hunt for blue signs amid the remains of charred trees continued for another kilometer zigzagging until we reached a cattle gate, beyond which was a sign indicating "RS Hill Loop: 3.8". As we trotted down an old forest path – green signs, again – I turned to LLS with another statement: "Everything will be easy to follow from here." »Silence.
If anything, we got even more lost. The bare hill gave no directional signs or arrows. No path either. I spotted a logging road due north and suggested we drive past another large ranch. This led to CR 141 half a mile, far out of our way.
Then LLS did something that I had never considered: she pulled out the raw map.
"We are not following the lines that go around the hill," she said. "We have to keep the hill just to our right."
Chastised, I followed. We cut through some thick brush just north of the hill but no sign showed the way until we got a good mile in. Then, like a lighthouse in a storm, a green sign and a path reappeared. I yelled at LLS to come and see. We could now run again without needing chainsaws to navigate our way.
"OK, it'll be easy from -"
"Don't even say it," LLS chided.
In fact, however, it was simple. The last three miles of the RS Hill loop were pretty straightforward, ending where the first meadow was. We remembered how we crossed the prairie and came back to the trailhead, our bodies and marriage mostly intact.
Orienteering isn't really my thing. In fact, I didn't even know it was one thing until I research it and find this definition: "Orienteering is a group of sports that require navigation skills using a map and compass to navigate from a point to point over diverse and generally unknown terrain while moving at high speed.