Missoula Paraglider Jenna Lyons to Participate in Hike and Fly Competition in Utah | Local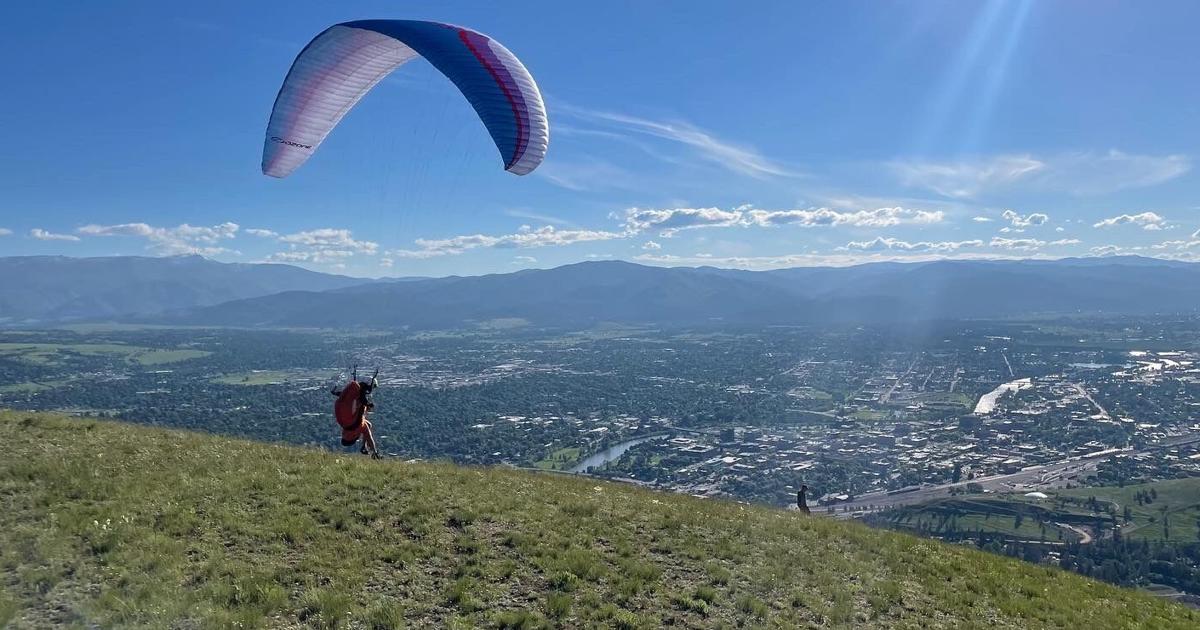 MISSOULA — The first time Jenna Lyons took off from the side of Mount Jumbo, she distinctly remembers lifting her wing into the wind, a brief sense of fear, then she turned around, ran and left the ground.
Immediately, she felt the most serene and blissful feeling she had ever felt. The golden hour sun draped the Garden City, Snowbowl and Rattlesnake in a warm glow.
"(It's) kind of like this euphoric, magical feeling," she said. "…It was a very beautiful night and I had never seen Missoula and the Rattlesnake from above before."
Once Lyons landed, she felt disbelief. In a blur, she went from soaring through the skies thousands of feet above the Five Valleys, to her feet planted on the ground. It's a high for thrill seekers who yearn to soar through the air at greater heights, pushing the limits of how long they can stay airborne.
Now, having been a certified flyer for about four years after that first attempt in the spring of 2018, she listens to music during her flights. It helps relieve anxiety and allows her to practice flying while feeling the ascents and descents in altitude – ironically, Lyons said she was afraid of heights.
"There's so much to think about," she said. "It's not like you're rock climbing or sitting on a ledge looking down. Even standing on a ladder, my palms start to sweat. … Just seeing mountains of up there is a really weird feeling. It's kind of like a video game."
"It's pretty surreal," she added.
Lyons, a Missoula lawyer and University of Montana Law School graduate, plans to compete in the XRedRocks Hike and Fly paragliding competition in central Utah in late September. This will be his very first walk and fly competition.
The objective of the event is to move through the mountains and landscape as fast as possible, reaching various checkpoints or hitting specific marks as the athletes advance. Different competitions have different goals and rules; in some, athletes must climb a mountain before flying, while others start at a high peak and launch themselves.
It is modeled after the Red Bull X-Alps – one of the most remarkable in the world – where the goal is to walk to the launch area and achieve the predetermined goal. It's not as intense as the X-Alps, with a mandatory night rest period for the three days of competition.
If an athlete's flight veers off course or lands too soon, they must either take the time out and walk back up to relaunch, or sabotage it on foot through the forest or desert they land in . They have a GPS with the target keyed in to help them navigate, as the sport is more like orienteering once the hiking kicks in.
The main difference being that this is a hike with over 30 pounds of gear.
"If we land, we repack and find the best route," Lyons said.
She became very intimate with that side of things. During the early summer rain, she packed bags of gravel, large jugs of water, and whatever she could find to weigh herself as she climbed up and down Mount Sentinel while being bombarded by rain and hail. A former Hotshot firefighter in Idaho, the time she spent carrying a chainsaw and a 40-pound bag helped prepare her, even though it wasn't the plan at the time, for paragliding .
Lyons was never good at traditional sports growing up in Pocatello, Idaho, but found solace on the trails. She also did ballet from the age of 3 until the age of 19.
She compared paragliding and hiking competition to a progression of trail running. She's run a few ultra-marathons of varying distances up to 100 kilometers – but she never felt like doing the dreaded 100 miles.
But she always wanted more. She longed to combine the sport she practiced – trail running – with the one she learned to practice and fell in love with – paragliding.
Lyons likes to dig into the intricacies of the sport. She has to learn about weather, meteorology, ground speed altitude change, and just how to handle the weight of the equipment she has. She learns something new every day at her job, and with paragliding the same thing happens.
She fell in love with the ever-learning aspect. Constant knowledge piques his curiosity in the same way as the practice of law. Flying is easier than expected, or so Lyons thinks.
"I think driving a car, at least for me, is more difficult," she said.
The XRedRocks Hike and Fly begins September 29 and ends October 1 in Monroe, Utah.