Ireland battle for extra-time win over Cyprus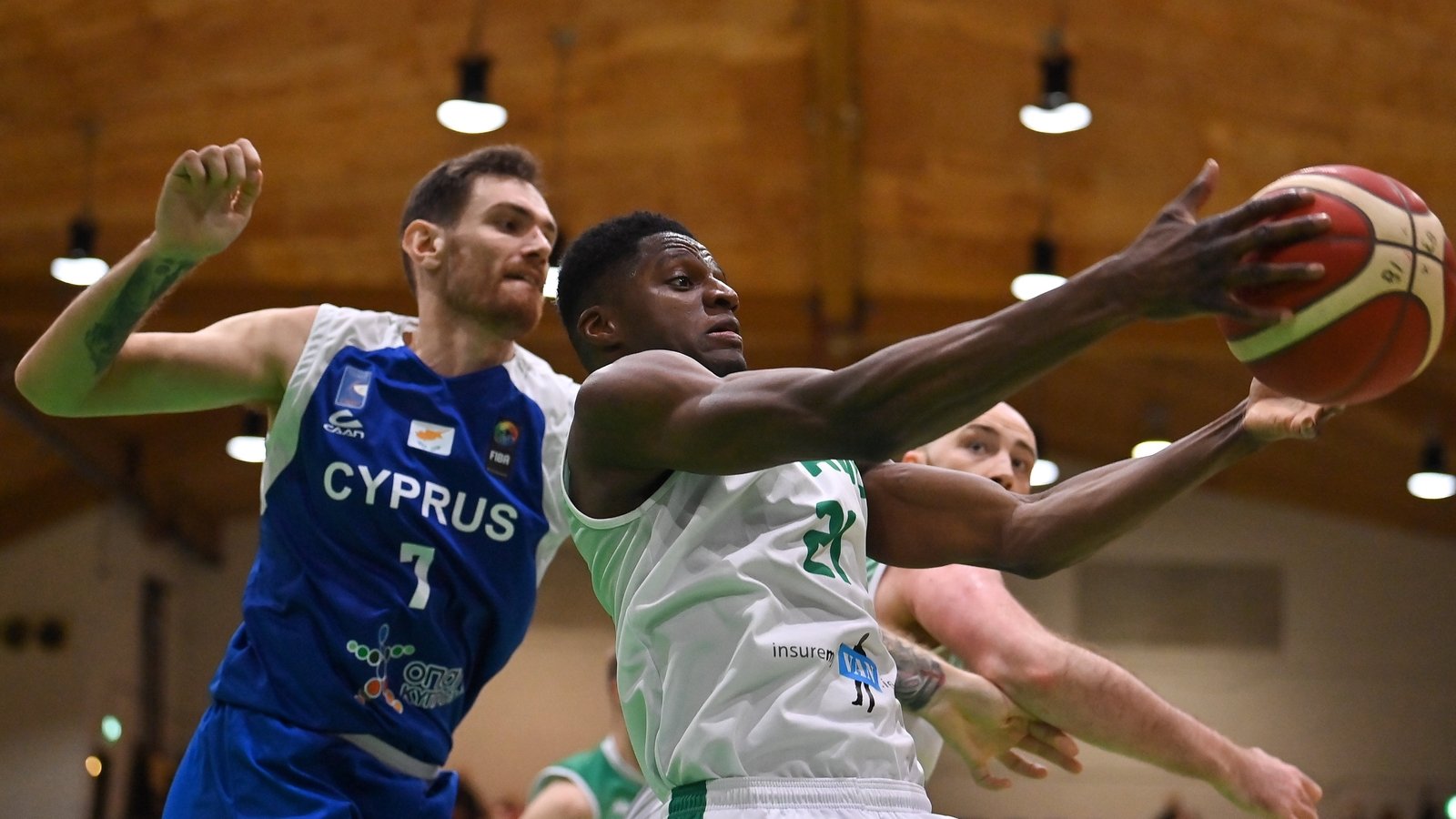 Ireland 83-75 Cyprus
Ireland showed their resilience with a solid extra-time performance to defeat Cyprus in their FIBA ​​EuroBasket 2025 pre-qualifying match at the National Basketball Arena.
It was their second win of the campaign and leaves them third in Group A with a 2-2 record and still in contention to progress to the next stage of qualification, ahead of their matches in June and July against Austria and Switzerland. , who both have 3-1 records.
Ireland powered home into extra time, responding to the disappointment of conceding a Cypriot equalizer with two seconds remaining in the final quarter to make it 64-64.
Roy Downey scored eight points in overtime, including two jump shots from three points. The C&S Neptune player finished on 16 points, to go along with his two rebounds and five assists in his second senior international.
It was a fine performance overall from Ireland – Jordan Blount finished with 16 points, five rebounds and five assists, John Carroll had 17 points, 11 rebounds and two assists and Taiwo Badmus contributed 14 points, 12 rebounds and two assists .
It was an equal first quarter, Badmus got Ireland's first points, a fourth-minute jump three to put them 3-2 up. Carroll got off to a good start, collecting six points in the first quarter.
A nice three-point jump shot in the seventh minute from Sean Flood made it 10-10, it would be 15 apiece at the end of the quarter.
The start of the second quarter mirrored the first, but Adrian O'Sullivan's three with just over three minutes remaining gave Ireland a 28-26 advantage – it was the start of a series of 13 points.
Flood netted his second from the three-point line 30 seconds later, it was followed by lay-ups from Blount and Carroll. The half ended well with Downey's three-point jump shot in the closing seconds and Ireland led 38-26.
A few free throws from John Carroll opened the score for Ireland in the third quarter, moments later Blount's three saw Mark Keenan's side build a 17-point, 43-26 lead.
The Cypriots responded with five points of their own, a long range three from Kyprianos Ioannis Maragkos made it 43-31 and prompted a timeout call by Ireland.
The momentum was with the Cypriots, consecutive three-point jumps from Iakovos Panteli cut the deficit to 48-39 with three minutes remaining. They continued to eat away at Ireland's lead, a lay-up from Stefanos Iliadis and three free throws from Filippos Vasileios Tigkas put Cyprus in the lead 48-47.
The Cypriots continued where they left off, a pair of Iliadis layups saw them go past, he also fouled for second and Cyprus were leading 52-48 with less than a minute left in the fourth quarter.
Blount stemmed the tide with a fourth-minute layup, Ireland trailing 54-50. Captain Panteli netted his third three-pointer of the second half to put the Cypriots' lead to 57-50 midway through the fourth quarter.
An Irish timeout was followed by a three from Carroll and a straight three from Keelan Cairns to put Ireland back in front, 59-57. Badmus had the opportunity to extend the lead soon after, but missed both of his free throw attempts.
A five-point run from Nikos Stylianou put Cyprus back in the lead, 60-59, with 1:56 to go. But Ireland regained the lead when Downey was fouled at the three-point line, converting two of his three attempts to make it 63-62.
With 6.6 seconds left, Badmus knocked down one of his two free throws and it was 64-62 for Ireland. But with two seconds remaining, Zayd Muosa's jump shot tied it at 64-64. Ireland still had a final game, but they couldn't make it count and the game went to extra time.
Ireland started extra time with flying colors, his shot from the three-point line exemplary, Blount began to put Ireland 68-64. Three more came from Flood and two from Downey, to help Ireland eliminate the 83-75 winners.
Head coach Mark Keenan said: "Really pleased the guys were fantastic. We almost did our best to let it go in the third quarter but look the guys never gave up and then we got back to our game. pace, then a good start to overtime.
"So yeah the playoffs of the game were rolling – we had our good run and then they had theirs and lucky enough we held on at the end of regulation to go into overtime, and then yeah, just thrilled to the way we started extra time and took off."