How they trained – Learn from the grown-ups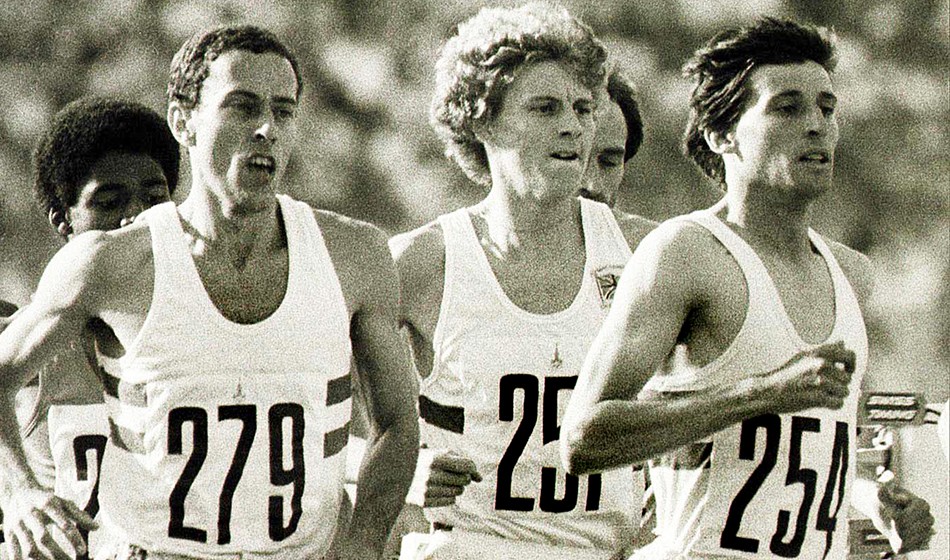 [ad_1]
The continuities and differences in the formation of the "holy trinity" – Seb Coe, Steve Ovett and Steve Cram – are examined through the prism of Matt Long and Lewis Moses.
Think of the British middle distance race and the images of Seb Coe, Steve Ovett and Steve Cram are never far away. This "holy trinity" of athletes dominated their disciplines, causing ripples throughout the sport every time they stepped onto the track, and is still the subject of much discussion long after their competitive careers have ended.
Everyone had their own racing style, but what about their respective approaches to training? What can we learn from the approaches of this incredibly talented trio?
Development of the aerobic base
Ovett regularly hit 120 miles a week and sweet, chatty 10 mile runs on the South Downs were common for him. There were also periodic appearances in road races – he once ran the fastest longest stage at the Southern Road Relays, for example.
While not obsessed with mileage, Coe's strong aerobic base was bolstered by tempo racing, while Cram's approach of running between 60 and 70 miles per week appears to be closer to that of Coe as the type of volume performed by Ovett, long runs generally being 8-10 miles.
Cram will continue to compete on the roads throughout his career.
Strength endurance
1980 Ovett, Olympic 800m champion in Moscow, regularly competes in English national cross-country races. He periodically used the "Big Dipper" in Merthyr Mawr and the sand in Southerndown to develop his endurance capacities.
In addition to hill training on the streets of his hometown of Sheffield, the two-time Olympic 1500m Coe champion's attention to strength endurance came from strength training, including barbell curls and the bench. This was supplemented with circuit and stage training, as well as plyometric work that included box jumps.
As a junior athlete, Cram, the 1500m world champion in 1983, rose to international level in orienteering and throughout his career relied on continuous hill circuits based on parks rather than repeats of Orthodox hills. In his 1985 mile record year, he was crowned the Northern Cross Country Champion.
Alactic speed
All three men took short strides (approximately 10 seconds) to maintain the rollover of the legs at various points in the periodization cycle. Even during weeks of high aerobic volume, for example, Ovett could run 60m inside Crystal Palace in 7.2 or 7.3 seconds from a standing start with generous recoveries on foot.
Coe would prime his alactic energy system through sessions such as 10 × 100m (constant acceleration to 60m, top speed to 80m, then float to 100m), with reverse to recover.
Cram's use of the alactic system involved speeding up towards the end of repetitions, which may tactically explain why he is often referred to as a "winder" rather than a "kicker," as Ovett and Coe, respectively, might be.
The philosophy of coaching
As Ovett's coach, Harry Wilson was heavily influenced by Australian Percy Cerutty and then visited his training camp in Portsea, Victoria.
Wilson was said to have initially been influenced by Cerutty's obsession with studying the movement patterns of horses, with the former going on to stress the importance of correct biomechanics so that Ovett could ultimately relax at high speed. This is why so much importance has been placed on "relaxed intervals".
Second, Cerutty's emphasis – the man who will guide Herb Elliott to Olympic success – on the strength endurance performed in resistance work both in the sea and on the sand (Cerutty called these sessions so far 'to exhaustion as "Death by Dunes") inspired Wilson to take regular trips to the dunes of Merthyr Mawr with young Ovett.
While Harry Wilson admired Cerutty's rebellious streak, there is a similarity in how Peter Coe allied himself with British Milers' Club founder Frank Horwill, as both men have often opposed the system.
Seb would say of his father: "He is an engineer who is inclined to approach things from what he would call 'first principles'". Essentially, the concept of "first principles" is about tackling any problem and breaking it down into building blocks before putting the pieces back together.
This thought has a long tradition dating back to the work of the ancient Greek philosopher Aristotle.
Senior and Junior Coes would put their faith in Horwill's five-step or multi-level training system to keep Seb from being locked into one pace.
Evidence suggests that Horwill himself was heavily influenced by Franz Stampfl (1913-1995). As the only non-racer (he was a club-level cyclist) of the three coaches, Peter Coe certainly lent himself to what Aristotle would have called an "episteme." [theoretical knowledge] and 'techne' [technical knowledge] and far from the 'phronesis' [practical wisdom] from Ovett's coach Wilson and Steve Cram's coach Jimmy Hedley both of whom competed as athletes with the former reaching the international standard for Wales and the latter starting as a sprinter .
While Coe senior (Winning while running) and Wilson (Run my way) has written a number of best-selling books, Jimmy Hedley did not attempt to make this kind of written contribution.
According to former Hedley athlete and now highly respected coach, Vince Wilson: "Jimmy was a self-taught coach." Hedley the pragmatist encouraged his athletes to learn through what today is called "guided discovery".
The long history of this inductive approach dates back to the work of educational reformer John Dewey in the late 19th and early 20th centuries.
Hedley's reasoning would work from specific observations of athletes starting to make sense of the patterns he would witness on the track.
Hedley would encourage a young Cram to take mentoring rather than coaching advice from Olympic medalists Brendan Foster and Mike McLeod, who could deliver the kind of elite-level running experience he couldn't himself- even as a coach.
SPEED ENDURANCE SESSIONS
STEVE OVETT
The 1978 European 1500m champion often sprinted in the wind around the Preston Park cricket ground in his hometown of Brighton. A typical "split interval" type session consisted of 4 x 400m (first 200m 28/29 s, last 200m 23/24 s) with a five minute recovery.
His use of "quality reps" was characteristic of pace-specific work, with full recovery in between. For example, 2 x 600m. He would undertake "tired surges", choosing to work in series in which he would run 400m in 49s with 100m "float", then continue to run 100m thoroughly.
"Rhythm injectors" were carried out over 600 m (200 m in 26 seconds, 200 m in 24 seconds and the last 200 meters in 26 seconds) to deal with surges at mid-race.
The man who wowed the opposition at the 1977 1500m World Cup has also worked on "increases of pace" – again typically over 600m (200m in 28, 200m in 26 and last 200 m in 24 seconds).
SEBASTIEN COE
Like Ovett, the 1986 European 800m champion would often regroup his speed endurance work in sets, with generous passive recovery if not between repetitions, at least between sets.
For example 2 x (3 × 300m) at 39sec, with a recovery of two minutes and nine minutes between sets. As he got closer to the competition, he would introduce progressive progressive work to challenge his lactate system. For example, 11 sprints, progressing in distance from 100m to 200m in 10m increments at 14, 15, 16, 17, 18, 19, 20, 21, 22, 23, 24, 25 seconds, returning to the start position.
He would also use pyramid sessions, an example of which would be: 400m / 600m / 400m / 300m / 200min55 / 82/53/36 / 25sec with two minutes of rest. During the competition phase of the periodization cycle, the former 800m world record holder would undertake race pace specific sessions such as 6 x 400m at 51/52 sec with five minute recovery or 6 x 300m at 38 to 39 sec.
STEVE CRAM
While, like Coe, the former world record holder in the mile and 1,500m, Cram was a fan of pyramid sessions, he tended to work in the "reverse" order, switching from more aerobic reps to those with greater demand for lactate and sometimes alactic.
A park session may, for example, have included 1 x 1 mile, 2 x 1km, 2 x 400m, 2 x 200m, 4 x 150m, 6 x 60m, with passive recoveries. One of his favorite sessions was 10-12 x 400m in 60 seconds (60 second recovery) in his belief that lap times were a reliable indicator of his mileage capacity.
As the big championships approached, the specificity of running pace became a factor, and a typical session would be 600m (three minute recovery) plus 6 x 200m (30 seconds recovery) at a running pace of 800 m. As it narrowed down for the big championships, the work involved shorter distances such as 8 x 200m in 25/26s (60s recovery) and the sporadic use of more reverse recoveries. generous.
" Matt Long is a former winner of the British Milers' Club Horwill Award for Coach Education Research and author of a number of articles on coaching. Lewis Moses is a former World Championships athlete and UK 1500m indoor champion and founder of New Levels Coaching. He has trained and mentored many British junior athletes. The authors and interviewee Vince Wilson are welcome for further advice on this article at [email protected]; newlevelscoaching.co.uk and [email protected]
" This article first appeared in the December 2020 edition of AW Magazine, which can be ordered online in print here and read digitally here.
" For more on the latest athletics news, sporting event coverage and athletics updates, visit the AW homepage and our social media channels at Twitter, Facebook and Instagram

[ad_2]