Grimshaw's design wins Toulouse bridge competition | News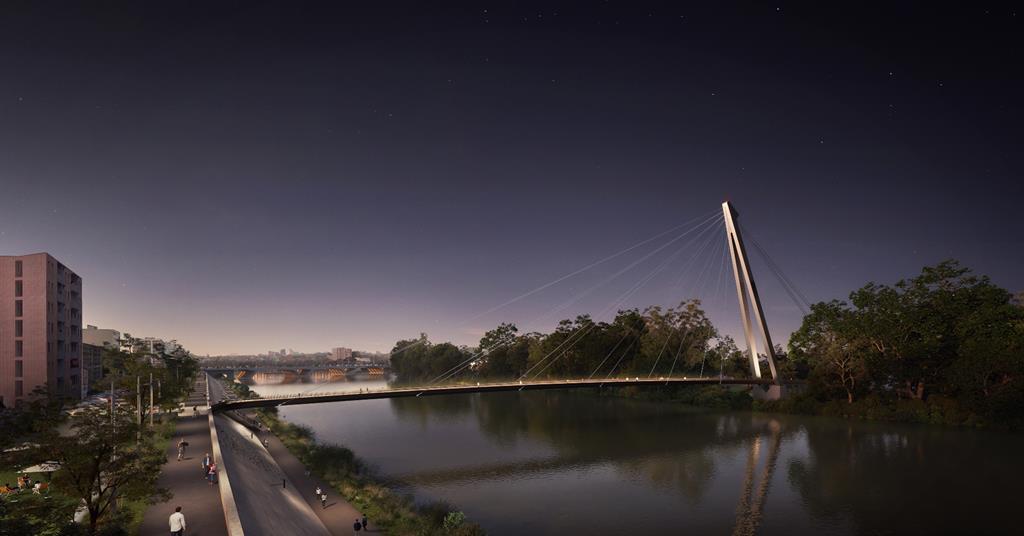 Grimshaw Architects has been chosen to deliver a new 160m bridge for pedestrians and cyclists in Toulouse.
The structure will provide a new connection to the Ile de Ramier, in the Garonne, which is part of a regeneration project aimed at creating a new "green lung" for the city in south-west France.
Grimshaw is working with the French civil engineering giant Eiffage and the Toulouse firm PPA Architectures on the Rapas bridge project, which is one of the two bridges selected in the competition organized by Toulouse Métropole.
Alice Barrois, Grimshaw's lead architect for the project, said the bridge – which features a 60m high inverted 'V' mast supporting its stays – would be a new addition to Toulouse's "rich architectural character".

On the town side, the Grimshaw Bridge directly connects the embankment with access to the town's river walk and cycle path. On the island side, the bridge descends into the park via a 360-degree angled concrete ramp and staircase, designed to mitigate potential flooding from the river.
Grimshaw partner Declan McCafferty said the Rapas Bridge would be the firm's first project to be built in France in 40 years.
Construction of the project is expected to start in July.