Fun run (and competition) for all as Rooster Run returns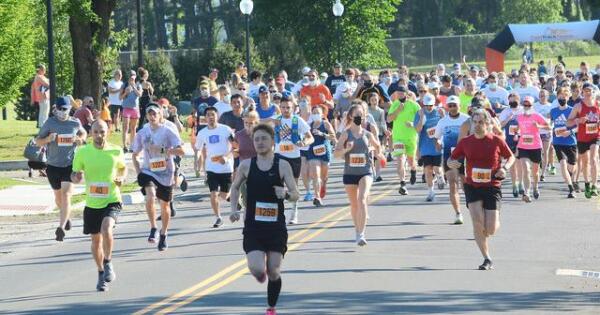 It had been a long time since a non-virtual race had taken place in Newtown. On Saturday June 5th, the Rooster Run returned and was a fun yet competitive morning of racing for all ages in Fairfield Hills.
"I am very, very happy. I am so happy that we are all together again and able to run live, "said Rose Ann Reggiano, Deputy Director of Newtown Parks & Recreation, which hosted the event, the proceeds of which were donated to the Newtown Scholarship Association. .
Last year's race, along with all other races in the city, had been on hold since March 2020 due to the coronavirus pandemic. This race was initially intended to be virtual and the live event was to include waves of small groups of runners until mask-wearing and social distancing mandates soften this spring.
There were 96 finishers in the 5K race, 41 in the 10K, and a few dozen children competed in the Little Chicks Dash run / walk.
Runners at the start of the 5K and 10K races were advised to wear masks due to the large crowds at the start point and were allowed to remove them once in progress and there was room to spread out on the course.
Eric Migiano of Wilton won the 5L race in 19:04, edging out the best female competitor and first in town as Taylor Smith of Sandy Hook crossed the line in 19:11.
Paul Freitas of Sandy Hook was third in 21:48 and Derek Bobowick of Sandy Hook was fourth in 22:40. Also in the city's top ten were Deb Bossio in seventh place with a time of 24:46 and Brian Comstock in ninth, with a time of 24:42.
Chase Smith of Norwalk won the 10k race in 36:48. Smith's grandparents live in Newtown and he frequents the Fairfield Hills courts to run.
"It wasn't the weather I was looking for, but it was a hot day," said Smith, who was happy to run his first race in a long time.
Jack Reinert of Sandy Hook was second in the 10K with a time of 42:47. Rounding out the top five were Jeffrey Gebert of Stamford in 42:56, top female Anna Weissenberg of Shelton in 43:26 and Philip Tisi of Newtown in 43:58. Sandy Hook's DJ Bobowick was in the top ten, placing eighth in 47:05.
Gary MacRae of Newtown, 71, was the only male participant 70 or older in the 5K run, and was proud of his accomplishment, and has run each of the last five 5K Rooster Runs, he said.
"My secret is to pay attention to the balance on the descents and to take the water," said MacRae.
The races featured runners with strollers including Ally Mazella, from Brewster, NY, who pushed her children Lillian and Madison on the 5K course. Her husband, Joe, ran the race and was more than willing to push the tandem stroller, but Ally said she wanted the extra workout.
Ally said one of the good things about the Rooster Run is that strollers are allowed, unlike many other races, allowing the whole family to participate. This allows both parents to run and their young children to be part of it.
"We are trying to promote running with them and health," Ally said. "We try to involve them in everything we do.
"It was refreshing to have the community together again while enjoying a healthy activity on the beautiful campus. It was like the start of a fun and healthy summer, "said Newtown Recreation Director Amy Mangold.
Because the Newtown Prevention Council is a sponsor, all middle and high school students who show up will be entered into a raffle for one of five carnival bracelets for the Newtown Parks & Recreation Carnival, to be held in Fairfield Hills, June 24 to 27. Mangold said.
Rooster Run sponsors include: Pleasant Paws Pet Center, Mt Pleasant Hospital For Animals, Red Rooster Pub, Newtown Veterinary Specialists, David Nowacki. DMD LLC, Dental Associates of Connecticut, The Newtown Bee, Men's Barber Shop – Rooster's Men's Grooming, Holy Cow Ice Cream Shop, Cover Two Sports Café, Caraluzzi's Markets, Blue Speed ​​Embroidery and Franco's Pizza and Café.
Full race results can be found through the results tab on the Rooster Run webpage https://runsignup.com/Race/CT/Newtown/47thAnnualRoosterRun.
Sports editor Andy Hutchison can be reached at [email protected]
Runners and walkers take off from the Rooster Run start in Fairfield Hills on June 5. —Bee Photos, Hutchison
Young running enthusiasts take part in the Little Chicks Dash.
Eric Migiano was the first to complete the Rooster Run 5K.
Taylor Smith finished second overall and the top woman in the 5km race.
Chase Smith was in the lead in the 10k race.
Gary MacRae was the only male competitor aged 70 or over to compete in the 5 km event.
Kelise Hutchison, daughter of Bee Sports Editor Andy Hutchison, enjoyed her first run.
Ally Mazzella pushes kids Madison and Lillian to the Rooster Run.
Joe Mazzella is leading the course.
DJ Bobowick was among the best finishers in the race. —Photo courtesy of Amy Mangold
Rita Kelley walks the scenic Fairfield Hills route. —Photo courtesy of Amy Mangold