FSU College of Law Trial Team Wins National Civil Rights Competition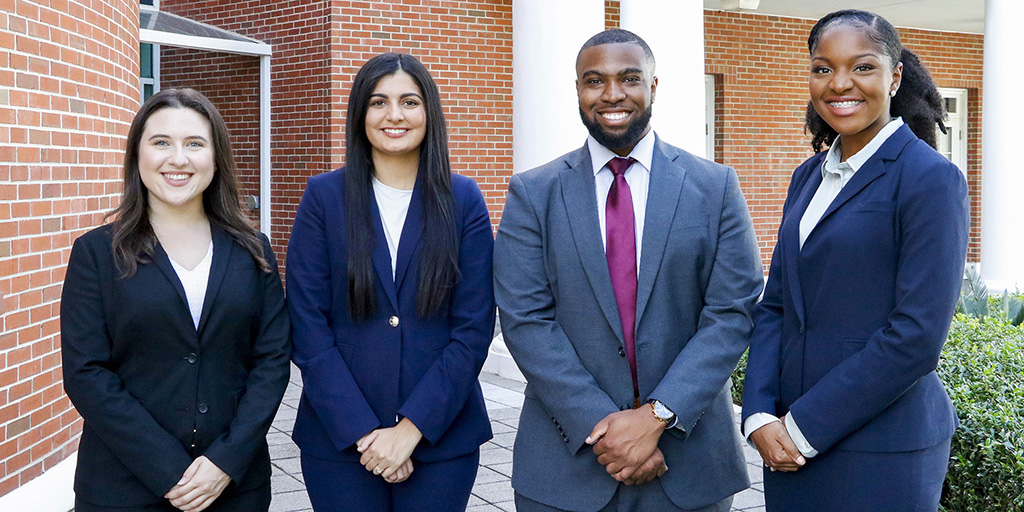 The Florida State University College of Law trial team won first place in the fourth annual Martin Luther King, Jr. National Civil Rights Competition. The competition took place virtually October 15-17 and was hosted by the Davis School of Law at the University of California. The competition issue involved litigation over Eighth Amendment allegations of cruel and unusual punishment resulting from the arrest and detention of homeless citizens interned indefinitely under a governor's order strengthening the penalty for vagrancy .
Twenty-two teams from law schools across the country entered the competition, including Harvard University, which FSU Law beat in the final round of the competition. Other competing schools were Emory University, Fordham University, New York University, University of Texas, and William & Mary.
Members of the winning team are Rachel Akram, third year law student, Melbourne, Florida; Zuriel Denmark, from Lakeland, Florida; Kalie Maniglia, from Fort Lauderdale, Florida; and Shaina Ruth, of Jacksonville, Florida. In addition to winning the competition, Akram was named best general defender and Ruth took home the award for best cross-examination.
Samuel Gilot ('16), partner at Berger Singerman in Tallahassee, and Louis Jean-Baptiste ('16), partner at Webster and Baptiste Attorneys at Law in Tallahassee, led the team to victory. As law students who are members of the trial team, Gilot and Jean-Baptiste were part of the team that won first place in the 2015 National Criminal Moot Court Competition.
"Congratulations to our students on the trial team for winning another national FSU law title," said Dean Erin O'Connor. "We are extremely impressed with their hard work and advocacy skills, and grateful to their coaches for their inspiring mentorship. "