From Kansas farm to national champion track and field coach, LSU's Dennis Shaver earns a spot in the USTFCCCA hall | LSU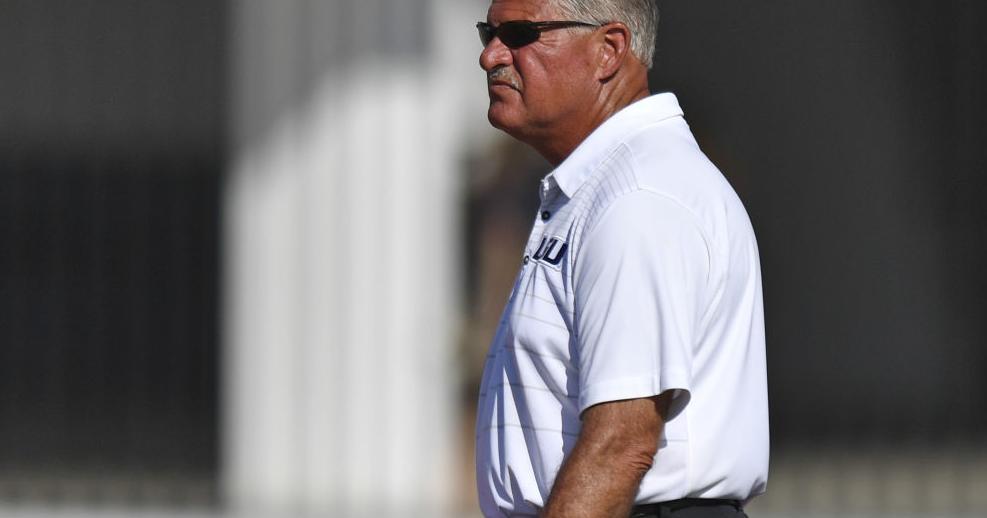 Growing up on a large 1,000-acre farm in Kansas in the 1970s, Dennis Shaver never doubted what he wanted to do for his life's job.
After all, Shaver had worked enough 18 hours a day in the heat and wind of summer to know that growing wheat and corn and tending to livestock on the family farm was not for him.
"It's not the way I wanted to spend my life," he said. "I'm not saying it's a bad thing for people doing it, it just wasn't for me. Track and field has certainly given me the opportunity to do something else.
As an athlete in three sports in high school, Shaver knew he wanted to coach.
But he always thought it would be in football, that's how he started – as a high school coach at Hutchinson Community College in his home state in 1981.
"I wanted to be a coach because some of the people I had always looked up to were coaches," Shaver said. "I always knew I wanted to coach football, but then I did the track wrong."
The detour placed Shaver, who was playing cornerback and safety at Texas-Arlington, on a course that 40 years later earned him a Hall of Fame spot at US Track & Field and of the Cross Country Coaches Association.
Shaver, LSU's head athletics coach since July 2004, and five others will be formally inducted at a banquet Wednesday night in Orlando, Florida.
The ceremony is part of the USTFCCA's annual coaching convention, which culminates Friday night with The Bowerman's presentation to the top male and female athlete in the college ranks for 2021.
JuVaughn Harrison, LSU Olympian and six-time NCAA high jump champion JuVaughn Harrison, is one of three finalists for the Men's Bowerman, which is the track equivalent of the Heisman Trophy.
The announcement of Shaver's election to the USTFCCA Hall of Fame in mid-August came as no surprise.
He has been very successful at all levels of college athletics, from assistant and head coach in junior college, to Division I assistant at Auburn and LSU, and as head coach of LSU during of the past 17 seasons.
After making his debut at Hutchinson, where he was a high school football coach and assistant track coach in 1981, he was elevated to the head track and field coach for the next four seasons while continuing to coach football. .
Shaver admitted it wasn't easy trying to juggle three jobs – he also had to teach 12 credit hours in the classroom – especially since he didn't have on-track assistants.
But then came the offer that changed his career when he accepted the head coach position at Barton (Kan.) Community College.
"I just felt like I was doing less than a perfect job trying to do all of this (at Hutchinson)," Shaver admitted. "But then the opportunity to go to Barton arose."
Just like that, Shaver no longer needed to coach football, his teaching was reduced to six credit hours, he could hire an assistant, and he earned a raise.
"It was a family decision," he said with a laugh. "It was' We're rolling… we're getting out of here."
Shaver won eight NJCAA tag team titles at Barton, earning him an assistant job at Auburn for four seasons in the early 1990s before joining Pat Henry LSU's staff as a sprint coach and female hurdles.
When Henry left LSU for Texas A&M in July 2004, then AD Skip Bertman appointed Shaver Head Coach of the Men's and Women's Combined Program.
Since taking office, Shaver has coached two NCAA championship teams: the women's team won the title in 2008 and her men stormed to the national title last June.
Four-time USTFCCCA National Coach of the Year, Shaver has also been National Assistant Coach of the Year and eight times has been named Southeastern Conference Coach of the Year.
During his time at LSU, he coached 34 Olympians, 12 of whom won medals.
Domestic titles aside, Wednesday night's induction will be one of the biggest highlights of his four-decade coaching career.
"When your colleagues and peers decide who gets in, it's special," Shaver said. "It is a great feeling to be recognized for all the years that you have worked hard and contributed to the sport and to our organization.
"To say the least, it's kind of a humiliating experience."