'Bells and Whistles: Annual Ken Bell Invitational Attracts Teams from Across Region and State | Sports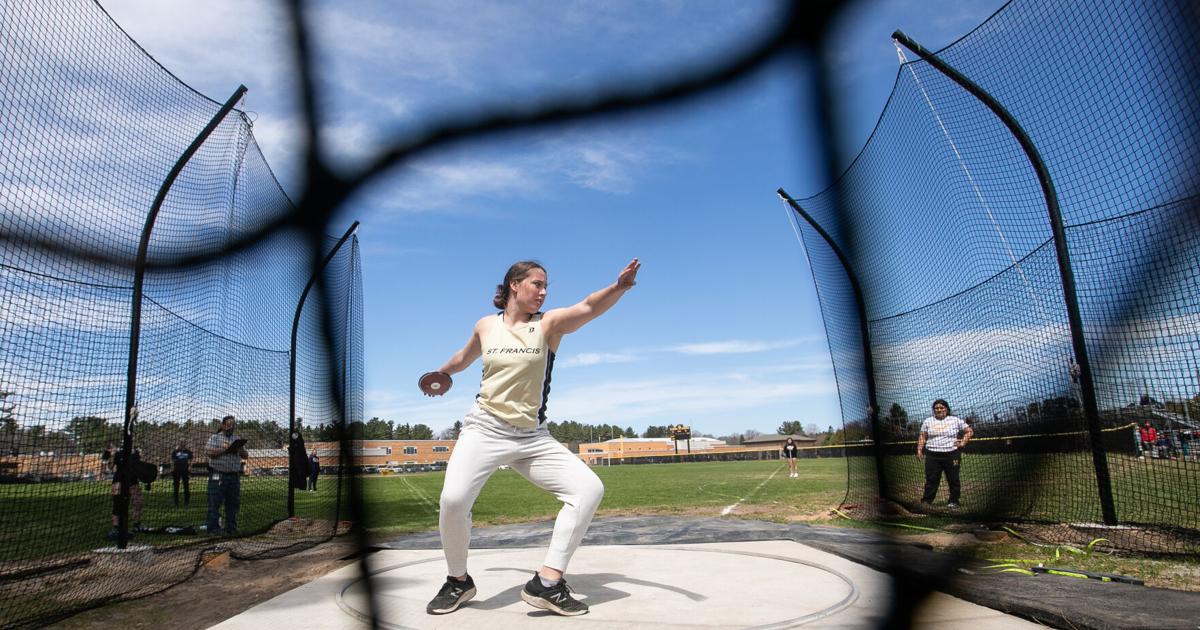 TRAVERSE CITY — East Kentwood dominated the day, but it was the weather that dominated much of the conversation at the Ken Bell Invitational.
The annual track and field meet held at Traverse City Central High School on Friday drew teams from 13 schools across Michigan, most here in the upstate part, but several teams from downstate State, including Big Rapids, the aforementioned champion Ken Bell and perennial East Kentwood Falcons with Hudsonville. All three Traverse City teams – Central, West and St. Francis – competed, as did Benzie Central, Charlevoix, Elk Rapids, Kingsley, Manistee, Onekama and Petoskey St. Michael.
The TC West boys finished just two points behind champions East Kentwood, 133-131. The host Trojans took third place with 107.5 points followed by St. Francis in fourth with 63.5.
The Central Girls were far behind the Falcons, scoring 88.5 points to East Kentwood's 181. St. Francis placed third with 71 points.
The Titan Boys riders did well, winning the 4×100 and 4×200 relay races over East Kentwood and placing second to the Falcons in the 4×400. Remy Schulz finished second in the 100 meters and won the 200 meters, setting personal bests in both. Ben Habers took second place in the 400 and Jonah Hochstetler did the same in the 1,600. Wally Tupper was third in the 110-meter hurdles.
"We raced very well. We competed very well," said TC West boys head coach Tom Brown. "Always a great game for us. Central is still good. East Kentwood is still good. Hudsonville too. It's a good game without having to leave town.
Brown also highlighted John O'Connor's performance in the long jump. The senior Titan finished second with a PR jump of 21-4.5 on his first day back in competition after being out for three weeks with a hamstring problem. St. Francis' Joey Andrews won the event, also setting a PR with a jump of 22-2.5.
"He came back and performed well, so it was good to see," Brown said of O'Connor. "Warm weather takes care of a lot of those things."
Other top performers on the boys side included Thomas Richards of St. Francis with a second-place finish in the 800m, setting a PR with a 2:02.23. TC Central's Jett Reimers was just two seconds behind Richards with a PR run of 2:04.08.
Samuel Peterson of Charlevoix dusted off the competition in the 3200 meter race, finishing over 13 seconds ahead of TC Central's Micah Bauer with a PR run of 9:38.01.
St. Francis, TC West and TC Central finished second, third and fourth respectively in the 4×800 relay.
Trojan thrower Kadyn Warner continued to rack up shot put gold medals. The TC Central senior has now won all six shot put competitions he has entered.
Kingsley finished 1-2 on the disc with Chase Bott and Riley Brock winning gold and silver with shots of 136-10 and 133-10. His compatriot Stag Gage Hessem finished second in the high jump, winning 6-0.
Brendan Endres, who already holds the St. Francis pole vault record at 14-6, cleared 14 feet to win the event on Friday. Endres attempted 15 feet but came just timid.
"I was pretty close. Just a hair. I got closer the last two or three competitions," Endres said. "I'm definitely aiming for it, but I'm not there yet."
Addison Swanson had a great day with the Trojan girls. The senior runner took first place in the 200m with a PR time of 26.52. She set a season best and won the 400m with a 59.76, and she was the last leg of the 4×400 relay team that took first place.
Sophia Rhein of St. Francis also excelled with an exceptional performance and a gold medal in the 1600m in 5:20.26. The junior Gladiator also won the 3200 by over 21 seconds, finishing in 11:37.06 to 11:58.87 for teammate Grace Slocum.
Other winners in the region for girls include Liathano Ramirez of Benzie in the shot put, Leah Rohrer of Charlevoix in the discus, Paige LaMott of TC Central in the high jump and Gloria Stepanovich of Benzie in the long jump.
St. Francis head coach Julie Duffing said the Glads had "outstanding performances" in both boys and girls, winning the small division tag team titles. Duffing said she was "a little surprised" by the women's team.
"I mean, East Kentwood dominated, but for the girls to score 71 points, we highlighted small hits here, there and everywhere," Duffing said. "It was nice to see, in some events, two of the three girls scoring points."
Duffing said it was also nice to see the sun.
"The warm weather was a huge contributing factor and the ability to run in decent sunshine with no snow or rain," she said.
Everyone seemed grateful for the good weather. TC Central boys head coach Bryant Wilson credited recently retired and longtime Trojans athletics head coach John Lober with the weather good fortune.
"He's the god of athletics, so I appreciate his blessing on my first Ken Bell to bring out the sun," Wilson said.
The event, now in its 46th year, is held in honor of TC Central graduate and former Record-Eagle Sports editor Ken Bell. Lober, of course, founded the invite during his tenure as head of the Trojan track program, so it was only fitting that he was there on Friday.
"I really enjoyed talking to a lot of coaches today," said Lober, who earlier in the day admitted to his "hasty" retirement. "I really enjoyed coaching the kids I coached in our team, and even helped a few kids from another school after the competition. I don't want to coach my kids, but I was happy to pass on some knowledge.
For Wilson, it was his first experience with the Bell.
"You can just see what Coach Lober has done and how they've built that and how well respected the competition is and how well attended the competition is," Wilson said. "Everyone is excited to compete in Traverse City. It is special.
Wilson admitted he had a few hiccups and said there were 'some things we'll do a better job of' next time, but he thought the meet went well and thanked the staff and volunteers for making this possible. Wilson said he hopes to expand the competition and include more teams as the event approaches its 50th year.
"We manage to show our city. We get to show off our large setup. We can show our pride," Wilson said. "It's good to bring state championship teams, state champion athletes, kids who are going to college to compete. Bringing them here and showing what we have is great and a testament to the success we've had.