Angela Mudge – A Career of Ups and Downs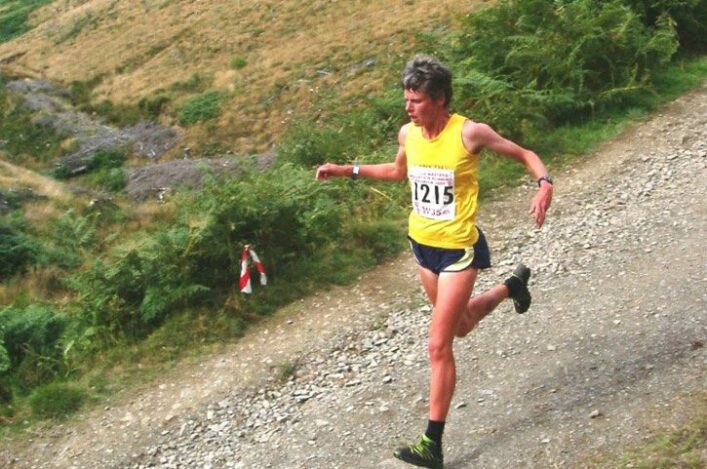 Thanks to Karla Borland for What Karla did for allowing us to share this room.
Call for young hill climbers
Karla: Everything I've read about Angela shows how modest and discreet she is. This interview only reinforces that. I have a lot of bucket list errands that are easy to dream about from my comfy couch. It reminded me to keep going (and trying some of those jelly snakes!).
Angela has won the Scottish Hill Running Championships three times (1997, 1998, 2006), the British Fell Running Championships five times (1997-2000, 2008) and holds the women's record on more than thirteen courses in Scotland alone. Internationally, she won the Women's World Mountain Running Trophy in 2000, the World Masters Mountain Running Championships in 2005 and the Buff Skyrunner World Series in 2006 and 2007. She has won countless other races around the world.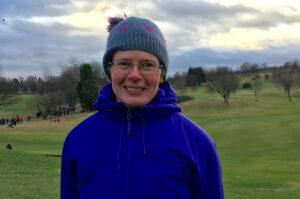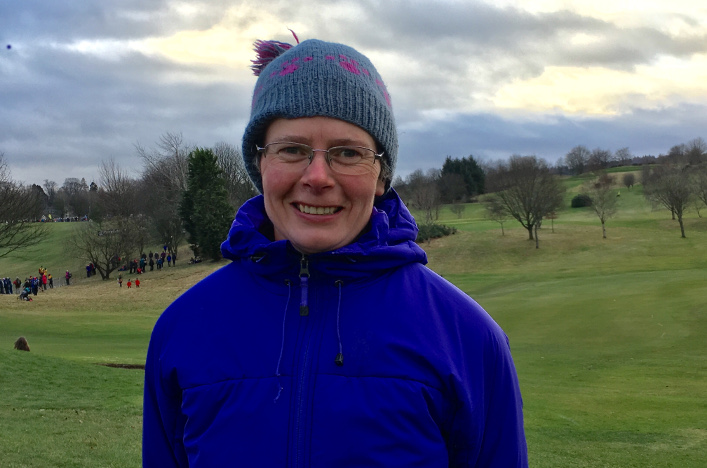 Angela: I live in the Trossachs a few miles from Aberfoyle with three very poorly behaved dogs; Granny, mom and puppy. I work as a Sports and Restorative Massage Therapist and also as an Event Manager for Hill Climb and Mountain Running at Scottish Athletics. I'm way past my prime and never really had a coach. Martin Hyman advised me in the middle of the night and pointed me in the right direction.
At school I was too slow for the sprints and did the 1500m because no one else wanted to do it. I found out I was good at endurance events and raced cross country and track at the county level. I stayed in shape by avoiding all sports and didn't join a club until I was 16, when a club was formed in my hometown.
As an undergraduate student I was disappointed with running and started orienteering. Most of the college races were short relay events where I ran the first and last races because we didn't have enough women to make the team. After graduating I moved to Stirling for a masters degree. The deciding factor was a photo of Dumyat on the front of the flyer. In Stirling I was introduced to hill climbing and found my very unsightly style to really suit this discipline and loved the rough terrain, mud and being exposed to the elements.
When I was a kid I would spend hours on Dartmoor so hill climbing was probably a natural progression once I found decent hills. The mountain race has just followed. When I started to improve I started running in the Alps in the mid 90s.
My training is not like what I did when I was in great shape. I rarely do speed work and most of my fitness comes from running or long walks in the hills. I also use the bicycle.
At my peak, I was running twice a day with two or three speed sessions per week depending on the races I was participating in. I tried Pilates and Yoga. While in confinement I am doing more yoga again but it's up to you to find out if there is a practical class nearby. Living in the countryside there is very often not! I run a weekly circuit session in the village and swear by the traditional circuit sessions for strength and conditioning.
I have a diet and I eat it. I firmly believe that you should have a bit of everything in your diet and that by being active I don't have to worry about consuming excess calories. I have to worry about getting enough. I only take glucosamine for my knees. If you have a healthy diet, I think you don't need supplements.
I don't have a favorite meal before the race; it depends on the time of the race and if I am going to the event or if it is at my doorstep. Jelly snakes in a long hill climb are good, but if I do a mountain marathon or similar, I like real food – flapjacks, sandwiches, etc. After the race I just eat what I can get my hands on, I'm not picky.
It is difficult to choose a favorite place, different tracks have different memories. I could opt for the Swiss Alps where I have spent many summers or something closer to home, like jumping in the bogs in the Campsies. As long as it's in the hills or on interesting trails I'm happy. I have too many memories of exceptional descents in the hills to remember just one. The experiences are all so different that it's hard to choose – it could be seeing a shattered specter, spotting a pine swallow, or walking knee-deep in the snow in the Ochils.
The Isle of Jura Fell race is definitely my favorite race; the terrain is wild and beautiful. All the competitors are camped on the island, so there is a good atmosphere before and after. The effort to get there always justifies a few extra days on the island to explore. I also love Carnethy 5, this is my club's race and the first big race of the season. You meet up with all your running buddies and you never know what the elements are going to throw at you in February. The Canazei Sky Race in Italy has to be one of the best, a real top-down race over a classic rugged mountain. It's a spectacular hill and a really tough race.
In 2001 I won Sierre at Zinal and broke the long standing course record. I was flying that day and broke Véronique Marot's 1987 course record by more than 5 minutes and was the first woman to pass under the 3 hour barrier. Now the record is stupidly fast, and I look like a jogger!
My worst performance was probably the last time in Caerketton when I was anemic in terms of athletic performance, but there have been a lot of decent performances that I consider worse because I was in the wrong tact or I didn't. given everything.
My philosophy has always been to continue. If you're injured find another outlet, for me it's about being outside in the elements. If I can't run I'll ride a bike and if I can't ride I'll walk and when I'm desperate I'll swim! Live just for now.
Running has definitely influenced my life. I am a very private person and do not like the spotlight. To excel in a sport
throws you in the spotlight and I had to learn to manage expectations and attention – luckily in my prime, other than hill climbers, not many people knew I was pretty good. It also made me a much more confident person and influenced my career path. I trained in sports and remedial massages to give me the flexibility to train and run abroad.
My sponsorship days are well over! I love my Salomon Speedcross for training, but they are useless for mountain races. I'm not a fan of speed and always wear an analog watch.
In 2004, I used up an area of ​​cartilage on the bottom of my femur and had surgery to resolve it. The rehabilitation lasted 6 months and more aquajogging and gymnastics. In 2014 I tore my spring ligament in my foot, it took a long time to resolve and he had surgery after almost 2 years. It's settled but I no longer do intense training because I get damages. I've learned that if I push hard, something breaks. I was born with club feet, so I just appreciate that I got to run for so many years before my questionable biomechanics got the better of me.
In terms of influence, Martin Hyman got me back on track in the middle of the night. Martin saw my potential and gave me great advice, for which I cannot thank him enough. He helped hundreds of runners in his day and is one of the unsung heroes of Scottish running.
My favorite running book is probably The Front Runner by Patricia Nell Warren, it's a love story between a running trainer and his star athlete. I'm not into love stories but the author really gets into the psyche of runners.
My advice for runners hoping to do more hill and mountain running is to run some trails first and then once you're happy with the rougher terrain work your way up to a few small hills and finally to the bigger ones. Learn to navigate so that you can safely navigate certain routes in more remote areas and buy shoes with good grip that will adapt to rough and rugged terrain.
Choose the friendly hills first where there are tracks and gentle slopes, once you start going down, move on to the steeper hills.
Below: Angela pictured with fellow mountain runner Charlotte Morgan, at our 2018 annual awards, where Angela was inducted into the scottishathletics Hall of Fame. (Photo: Bobby Gavin)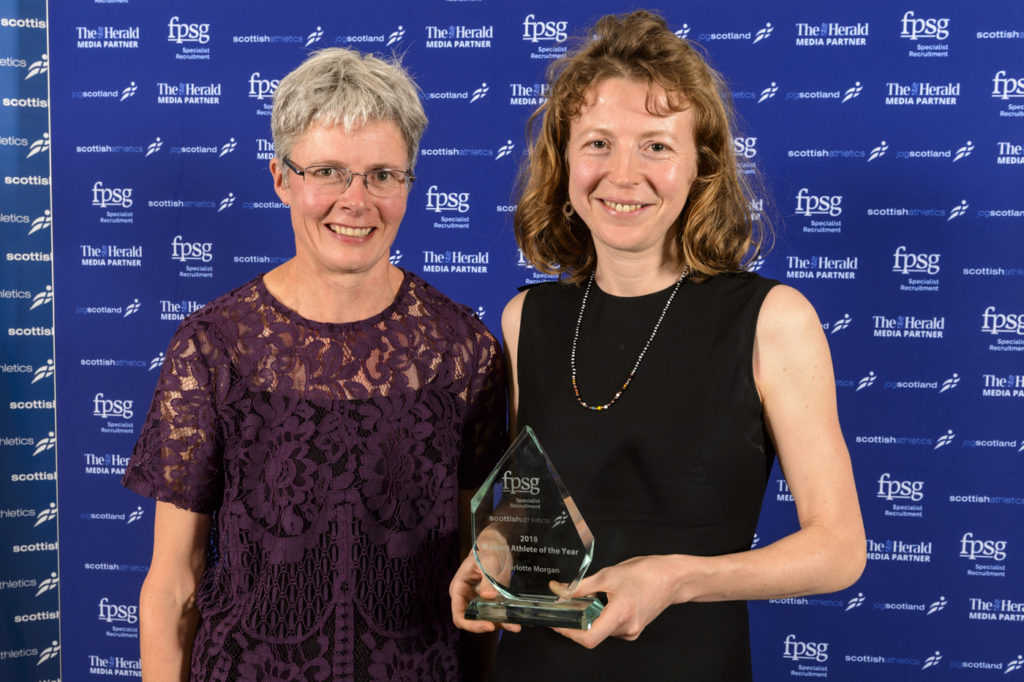 Keywords:
Angela Mudge, mountain run, mountain run