Alderley marks mid-season with victory at Timperley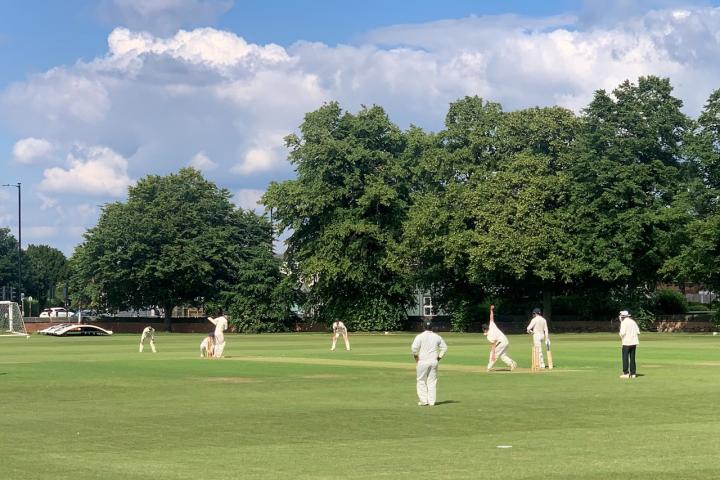 Alderley Edge First XI reached halfway through the season on Saturday with a convincing victory over Timperley in the Cheshire County Premier League.
Winning the toss and bowling first, Alderley controlled play from the start with 4 early wickets for Chris Sanders and 2 for Richard Wilkinson, leaving Timperley on 47-7. A nice round of 50 from young No.4 Muhammed Rizvi proved the only telltale resistance to the top order, but a partnership of 50 for the 8th wicket with Chris Page, who hit 20 paces, and 16 from No.10 Chris McCarthy helped give the Timperley card some respectability.
The hosts were knocked out for 135 in the 41st, with Alan Day winning 2-9 to close things off for Alderley's offense. Alderley openers Sam Perry and Ed Foster looked confident in response, compiling a stand of 92 before Foster was sent off for 40 with Perry continuing his fine form with the bat to bring Alderley home with an unbeaten 72 to win victory by 8 wickets, the pursuit ended in just 23 overs.
Saturday's victory in the 55 over format came just after Alderley qualified for the T20 matchday in July with a win over Brooklands in the quarterfinal stage on Thursday night. Winning the toss and hitting Alderley's top three first all conceded with Sam Perry hitting 56 of 28 balls, Ed Fluck 33 of 21 and Ed Foster 24 of 25.
After establishing a good platform at 137-3, Chris Hart's 4-32 spell helped slow things down for the hosts slightly, with Alderley finally closing with a solid 187-8. Contributions from all of Alderley's bowlers helped prevent any swing from the Brooklands Order, reducing them to 30-5 in the initial stages from which the hosts never recovered, 21 from wicket keeper Daniel O'Gorman proving the only highlight. Richard Wilkinson's Will Valentine's 3-24 and 2-13 helped Alderley clinch the victory by 93 points and advance to the day of the finals at Chester Boughton Hall on Sunday July 11.
Alderley's second XI drew with Macclesfield at Moss Lane on Saturday after the visitors reached 258-5 at the back of 101 from opener Chris France and support contributions from number 3 Josh Towne (43) and from wicket keeper Thomas Carter to No.5 (47 not out), Sam Woolf winning 2-47 for the home side. A nice round of 104 from No 3 Andy Kennedy kept Alderley in the chase in the second set, well supported by Ashray Bhampidipati's 51 of No 5, but when the two were pulled apart with the score at 207-5, the rest of the runs proved too steep a chase, but Alderley's tail held up 7 points with the hosts closing at 215-9.
On Sunday, Alderley's third XI fell to a 5-wicket loss to Nantwich at Moss Lane. After being asked to strike first, the hosts made it 182 with skipper Calum Wilson hitting 60 from the top of the order and Josh Chalk compiling half a century from No.6. In response, No.3 from Nantwich, Sam Cork, hit an unbeaten 75 with 59 from number 4 Freddy Woodfine to seal the visitors victory, Ashray Bhampidipati taking 2-35 for Alderley in a losing cause.
Match report by Andrew Windle.
Keywords:

Alderley Edge Cricket Club, Cricket