10 Temperature Monitor Qualification Considerations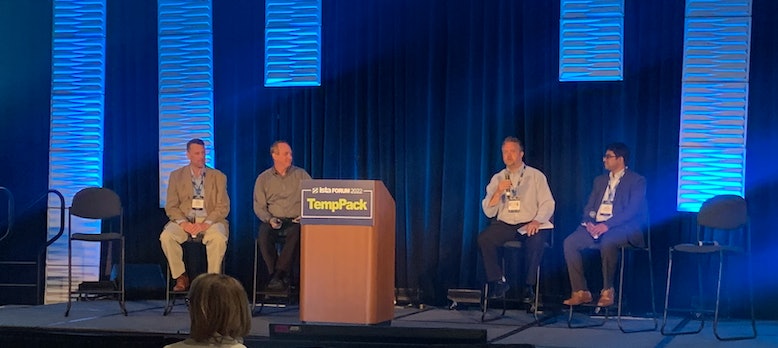 A panel convened during the TempPack conference at the 2022 ISTA FORUM in San Diego to discuss real-world challenges and best practices for qualifying monitors in thermal packaging. The main takeaways included the following.
1. Dry Ice Packouts: Mark Maurice, Solutions Advisor, Sensitech, noted that some in the industry don't realize that LCDs don't necessarily work at these low temperatures, making it look like the sensor has stopped working. It's good to test your sensors to make sure the sensor is still monitoring properly even if the screen isn't or find out that the Temperature Recording Device (TRD) really shut down in the middle of the dispatch. The sensor should continue to operate if designed for these conditions.
Moderator Bryan Cardis, Sr. adviser, Eli Lilly and Company, noted that he had heard of scenarios where techs threw away the TRD because the screen was bleeding, so it's important to define how to properly handle failure modes. Some data is probably recoverable as long as the TRD is admissible.
---
---
2. Start delay: The data logger often takes a while to reach or reach the desired temperature. Due to the design of the TRDs, be aware of this unit's response rate and ensure there is a start-up delay for logging. (Document the time it takes for the entire system (panels, gel packs, PCM) to equilibrate and be within your temperature range.) false alarms.
3. A note on scanning: Arif Rahman, chief technology officer, MaxQ Research LLC, explained that the packages of hospital blood products can be labeled with a chemical indicator. A problem can arise when the employee puts the package on the table to scan it before placing it in a secondary container: if the chemical indicator comes into contact with the table when it is put down, it can heat up and change color, causing a false alarm. .
4. Disconnecting the probes: If a probe can easily become disconnected from its electronics, be sure to align with your metrology group to confirm this is acceptable, said Eric Silberstein, principal, eBiotech Consulting, LLC. He cited a case where the metrology group said the device is no longer considered calibrated once disconnected because the TRD can be considered calibrated as a system.
In the audience, Karen Green of Network Partners explained that she performs frequent intermediate quality checks on multi-purpose data loggers, and she informed attendees that ISO17025 is an excellent standard to follow.
5. Multi-purpose TRD Recovery: Silberstein also warned of cases where a multi-use (also called reusable) TRD cannot be located for its one-year recalibration. People may stick a TRD in a desk drawer for six months, or it may not return from its original destination. Brian Wallin noted that this can lead to costly and frequent diversions for untraceable devices. Silberstein recalled an instance where the quality asked him to find a device, but it was probably located in Puerto Rico, far from the California facility it came from.
6. Ownership of TRD: If you are implementing multi-use DRTs, you need to consider the complete life cycle of the devices: reverse logistics, maintenance and purchases. Silberstein noted that for many companies, it may be best to hand ownership of DRTs to the transport service provider. Because a third party has a large network, it may be acceptable for them to let a device sit in another country for a while and wait to send several back once they've accumulated, but he doesn't see the value for many biotech companies. to manage the maintenance and logistics of the TRD.
7. Integrated TRDs: Some packaging suppliers incorporate TRDs into their shippers. There are pros and cons to be aware of. They offer convenience to end users as an all-in-one system, and there is no worry about qualifying probe locations.
But before implementation, consider battery replacement protocols, data access for the end user, and whether additional (vendor-specific) software will be required to read the data. If the supplier owns the process and data, will there be an extra step to resolving the issue, where you have to work with their customer service department instead of your own quality group? Filling gaps in inter-company communication.
Carolyn Williamson pointed out that if the TRD battery dies you will need to remove it. A battery has such a long lifespan, and you'll need safety stock to deal with supply chain disruptions that require space in your facility.
---
8. Light sensors: Questions remained on the panel regarding the qualification of light sensors intended to alert an end user in the event of the opening of a charger. Williamson said she's determined in at least one instance that the sensor needs a certain level of light to register, so she can't use that feature to prove to health authorities that it doesn't. was not open.
9. PDF data transfer: Maurice said that not all PDF files are the same – there are higher and lower levels of encryption. Some surveillance systems embed their data in fully open source PDF files that can be edited with Word.
He recalled an investigation into a freight forwarder who falsified a document due to the high value of shipments, but he also pointed out that the vast majority of companies are trustworthy. "It goes to 21 CFR part 11. If you can edit a document with Word, then you need to do a risk assessment," he said. Photo editing software may be able to make changes, so it's important to consider how you manage the process to stay 21 CFR Part 11 compliant. He also warned that even emails are scrutinized as an unvalidated process for data transfer.
10. Predictive models: More and more attention is paid to the power of predictive models to try to intervene when an excursion seems likely. An audience member asked, "How do quality groups view prediction?" How to validate a predictive model?
Panelists said it would take time. Over time, you collect data, feed it back. You continue to tweak the process and the analysis so that the model becomes more accurate and confidence levels increase, Maurice explained.
Silberstein said bringing in a neutral third party could help test the 100 or 200 test cases he'll need over the course of a year, as well as publish articles on the subject and ensure he's is validated by computer.
Rahman agreed: "It's a process. First, we need to come up with plenty of test cases. We want to do a performance check, this continuous monitoring to know that it still matches the prediction.